Appalachian State University's chapter of the Association of Information Technology Professionals (AITP) has earned the AITP Student Chapter Outstanding Performance Award for 2016-2017, marking the tenth consecutive year that the chapter has won the honor.
The performance award is given to those AITP student chapters which meet or exceed requirements in five areas: education, membership, public relations, meetings and association participation.
Only seven colleges and universities out of more than 200 AITP student chapters across 45 states were selected for 2016-2017.
"AITP is very active on campus," said Scott Hunsinger, Professor of Computer Information Systems and faculty advisor for AITP. "More than 350 students attended the fall kickoff meeting in August!"
The student organization brings to campus industry guest speakers each Wednesday to provide real-world advice to students and to inform them about job and internship opportunities. The club also holds weekly committee meetings on Tuesdays, during which students participate in subcommittees including fundraising, marketing, and event planning.
For more information about the Appalachian chapter of AITP, visit aitp.appstate.edu.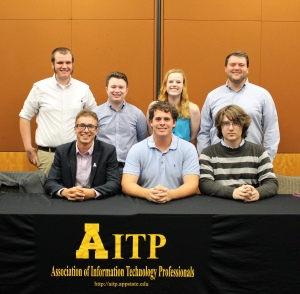 Tags: