What Is CIS
Computer Information Systems serves as the bridge that links business with technology.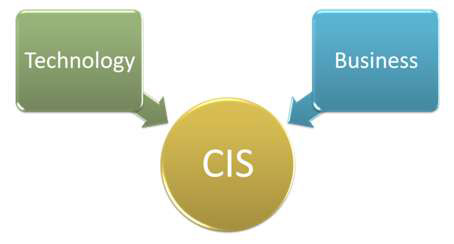 Why Major In Computer Information Systems
The Computer Information Systems (CIS) major develops the professional skills and capabilities that enable students to work in the computer and related information technologies (IT) fields. Most jobs require that the professional develop solutions to business problems using technology. CIS majors are trained to be analysts and business problem solvers. The focus of the major is to develop the technical and people skills that will enable students to excel in CIS roles in industry and government.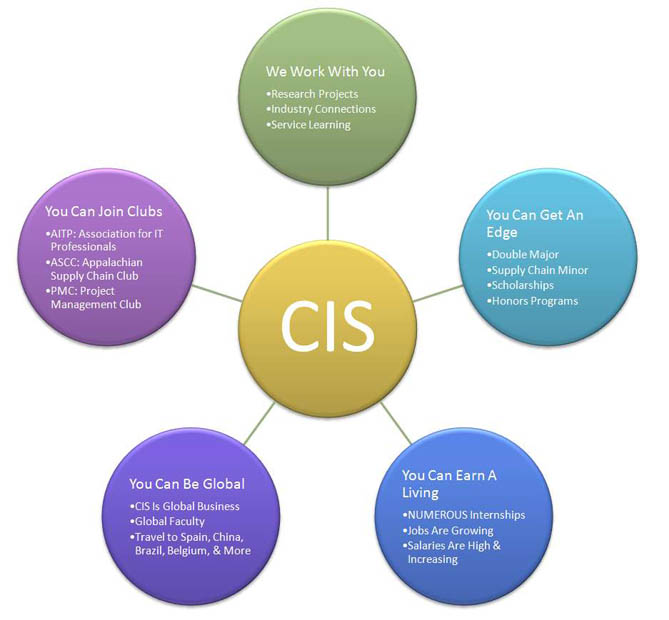 Traits Of A CIS Major
Analytical Skills
Ability to work in teams and with others
Oral and written communications
Logical thinking
Ability to learn technical subjects
Detail-oriented
Skills Acquired
The ability to analyze and problem solve
The ability to work with people
The ability to create solutions for business problems and business users
The ability to utilize computers and technologies
The ability to work in a creative environment
Demand And Salary
Information Systems is one of the top 10 fields in terms of demand and starting salaries for graduates according to the National Association of Colleges and Employers and the Huffington Post. The other top 10 are engineering and computer science which emphasize many of the same topics as IS.
Expected starting salary range for students majoring in CIS is anywhere from $48,000 - $65,000. Specific, current salaries for technology professionals can be found by reading the 2009-2010 salary survey. Furthermore, Computer and Information Systems Manager salaries are expected to increase 36% or more through the year 2012 according to the U.S. Department of Labor.
CIS Related Careers
The job outlook for students who major in Computer Information Systems is outstanding. There is a high demand for students with the skills necessary to pursue careers as: Systems Managers, Systems Architects, Systems Developers, Program Analysts, Systems Analysts, Database Administrators, Network Administrators, and Website Developers. Other potential careers include:
Security analyst
Business programmer
Systems Engineer
Software/systems developer
Webmaster or web developer
Network and database specialist
Computer and equipment salesperson
IS auditor
Wireless network administrator
Project Manager
After Graduation
IS majors enter the workforce with some of the highest salaries among U.S. graduates. Students find excellent job placement, often with offers before graduation. As a part of the college of business, our students learn all aspects of business including accounting, economics, marketing, management, & finance as well as their relationship with technology.