Twelve Walker College of Business CIS and SCM faculty participated November 1 – 3, 2018 in Norfolk, VA at the Conference on Information Systems Applied Research (CONISAR) and Education Special Interest Group Conference (EDSIGCON). Approximately 150 attendees from 70 colleges and universities presented over 100 peer-reviewed papers, cases, and abstracts at EDSIGCON and CONISAR.
Dr. Charlie Chen and Dr. Hoon Choi won the CONISAR Best Paper Award for their paper, "An Interdisciplinary Approach to Examining the Adoption of Drone Delivery Services." Dr. Chen and Dr. Choi, along with Dr. Jason Xiong, also co-authored the paper titled, "Improve the Loyalty of Mobile Payment Users in China by Increasing the Fit between Skill, Technology and Task," which received the CONISAR Distinguished Paper Award.
Dr. Steve Leon and Dr. Jason Xiong accepted the EDSIGCON Distinguished Paper Award for their paper, "Connecting the Dots: Strategies to Recruit Computer Information Systems Students."
These authors will be invited to publish their award-winning papers in the Information Systems Education Journal (ISEDJ) or Journal of Information Systems Applied Research (JISAR). Both journals are listed in Cabell's Directory of Publishing Opportunities.
Dr. Scott Hunsinger was recognized for serving for the past ten years on the EDSIG Board of Directors in positions including President and Vice President. The Information Systems & Computing Academic Professionals (ISCAP) Board, which organizes and manages EDSIGCON, CONISAR, and three academic peer-reviewed journals, re-elected Hunsinger as a Director. He will continue as Senior Editor for the Journal of Information Systems Applied Research.
Each Appalachian State attendee presented and/or served as a Session Chair during the conferences.
Pictured below (left to right) are: Regina Hartley, Hoon Choi, Christopher Taylor, Lakshmi Iyer, Scott Hunsinger, Dawn Medlin, Sandra Vannoy, Charlie Chen, Ed Hassler, and Jason Xiong
Not pictured: Lewis Alexander and Steve Leon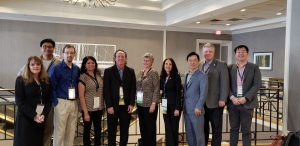 Tags: